"I first found this store because my Singer sewing machine needed a tune up. The price for a tune up was a little shocking, but after some checking I think it's fair, something like $74, which should be done annually, or bi-annually depending on usage. When my old machine needed almost as much in repairs as a new one I purchased a new one cheaper than anything I found online.
But the real gem here is the staff and the sewing lessons. If you buy a new machine they will give you an hour get-acquainted lesson on your machine and then additional sessions as you need them.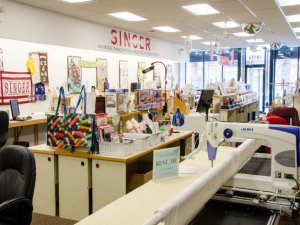 They also offer sewing lessons, the best and most reasonably priced I've ever heard of. They offer 6 2-hour lessons for $60. That's $5 an hour and the lessons are pretty much semi-private. Nancy, the teacher is quirky but trained in design and will teach you the old fashioned way to do it yourself on patterns and techniques. If you are an absolute beginner sewer she will teach you how to use a machine and how to pick patterns and measure and cut and sew. If you have some experience she will take you from there. The first pattern is one of her suggestion, but after that you choose your project, from clothing to home decor, she will help you when you get stuck and teach you how to do it. If you take more sessions you just keep bringing your projects in and she will help you as you go along. One of the most valuable things she teaches is how to customize and tailor clothes for your body type.
I am on my second set of lessons and want to go back for more! Compared to lessons at other places, I will not name, this is absolutely the best value and the best for continuing education. It's not trendy or in a cool neighborhood but it's the real deal."
-Amanda E, Chicago